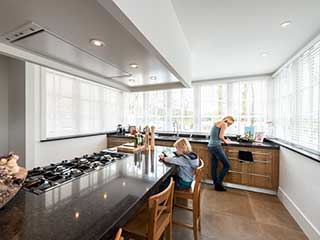 It's not as difficult as you may think to give your Mill Valley home or business a brand-new look! Having fresh Venetian window blinds installed can make a big difference in the look and feel of a place, and our experts will be happy to go over all the options available with you in a free consultation. One type of window coverings that are easy to match to any area is Venetian blinds! They're simple and effective, and come in several styles! To discover information about the various materials available for them, read on here:
Wood and Faux Wood Mill Valley Venetian Blinds
If you think that Venetian blinds can't bring a beautiful and sophisticated air to your home, you'd be mistaken! Wood Venetian treatments do that and can enhance anywhere from the front room where you host guests, to bedrooms. We'll assist you in finding the right shade of wood staining to complement the space, so you're sure to be satisfied. If the idea of wood intrigues you, but the maintenance involved doesn't, faux Venetian blinds would be perfect for you. They look the same but don't require the same attention to keep them looking sharp.
Custom Motorized Venetian Blinds Available
There's no need to waste time messing with manual strings on your window coverings any longer! Step into the future with our motorized Venetian window treatments instead. Rather than dealing with strings, you can use any smart device to adjust your new blinds accordingly. Even when you're not at home, you can still open or close your motorized Venetian blinds as needed! Timer functions also allow you to set them to your schedule to open when you get up and close when you go to bed. It's that simple!
Aluminum Venetian Blinds, and More
Different types of Venetian blinds can address different needs, and our professionals are here to make finding the right style easy for you! Metal Venetian window coverings are the most affordable option if budget is your main concern, and aluminum blinds are also less expensive while being long-lasting. Are you looking for something that you can wipe down quickly to clean them? Our Venetian blinds are available in vinyl and PVC, and both fit that criterion! Whatever you're hoping for, we'll be able to assist you before you know it.
A Better Night's Rest with Blackout Venetian Blinds
Keep sunlight, or any other light, from pouring in your Mill Valley windows easily with blackout Venetian treatments! These will completely block out all outside light, making them excellent for bedrooms and nurseries to assure complete darkness. You won't even need to worry about cracks or gaps between the blinds and the window frame because we custom make each set to your specific windows. They're great if you work late and need to sleep in during the day, or if you love to take naps!
Venetian Blinds For Mill Valley Windows
Time to choose new blinds for your home or office windows? Then the Master Automated Blinds & Shading team has a lot of advice to offer. Whatever the motivation, our blackout Venetian blinds will certainly do the trick for you. Give us a call to get started with a free, no-obligation consultation appointment!