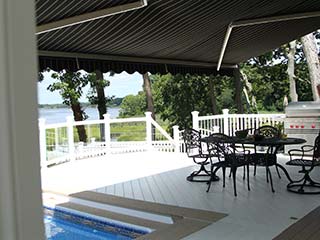 Are you wondering why your patio doesn't get anywhere near as much use as you intended? If so, we have the answer to your question! Well, maybe, there are actually quite a few things that can hurt an outdoor space. But at least one of those things is lack of cover and that one we can help you with! Motorized patio covers, sail shades, and freestanding patio shades are just a few of the options you can choose for your Mill Valley area residential or commercial property. Motorized patio covers and other outdoor shading solutions can complement aesthetics and improve the functionality of the space.
Pop Up Canopies and Patio Tents
Let's start with the stone-age approach to this age-old problem. If you need shelter, put up a tent! More seriously, pop-up canopy tents are quite a bit more sophisticated than what you'd use to dissuade saber-toothed tigers. These patio tents cover an outdoor space from above, and anywhere from one to four sides, so you can have yours take advantage of existing walls. These are freestanding patio shades, so even with no existing support, they can work for you. This style of outdoor cover is also movable, so if you want something you can relocate as needed these are for you!
Get Motorized Awnings?
Awnings are outdoor coverings that hang off the outside wall of a building to cover a patio, storefront, or small yard. Motorized awnings extend on rollers or unfolding frames in response to remote control or sensors. Old school hand-adjusted awnings are cheaper but can be a lot of trouble to open and close to accommodate the weather and time of day. A big benefit of motorized patio covers is that you can quickly protect your outdoor furniture without having to drag it all back inside. Just press a button, and the sun and rain won't touch it! Motorized awnings and pergolas screens give your Mill Valley outdoor lounge a very effective covering method for different angles of sunlight.
Sail Shades For Any Space
If you want quick and dirty patio covers that don't require any space set aside for frames or scaffolds, sail shades might be your best option. These fabric or canvass shades stretch between three or more attachment points, which you can mount on walls, fences, or handrails. One of the benefits of sail shades is the fact that you can fit them in just about any space, even when you don't have much to work with. If you do have room to mount poles or partial frames in part of the space that needs covering, that gives you more options. Sail shades stretch taut across the space that needs covering, so triangular, rectangular, and more elaborate shapes can maximize your cover and breathing room.
Smart Controls For Motorized Patio Covers
Gone are the days of mere remote control handsets and fixed wall consoles! Motorized patio shades are now network connected, assuming you want them to be. Connect your motorized patio coverings to Alexa or Google Home, and you can voice control them or set contingencies and timers. Put a sunlight or heat sensor up, and your motorized awnings and shades can even adjust themselves when they sense that the weather requires it! Smart controls can even save you money in the long term, thanks to their reliability in protecting your property. Motorized patio covers offer your Mill Valley patio easy methods of remote control that make the experience a lot more convenient. From simple handsets to smartphone connectivity, smart patio shades with motors can add a lot of utility to the space.
Free Estimates For Mill Valley's Best Custom Patio Covers
We design high-quality, low-cost motorized patio covers and outdoor shades to customer specifications. Make an appointment with our consultants, and get professional advice and recommendations free of charge. Our custom designs include a ton of options for color and material, as well as special features for motorized patio covers. For the best options on motorized patio covers near Mill Valley, talk to our local specialists to learn more!