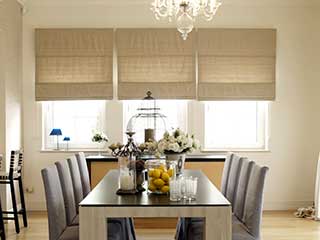 If style and decorative value are what you're looking for in a window coverings, try Roman shades for your Mill Valley home or office space! What are Roman shades, you might ask? Unlike basic roller shades, these fabric sheets have built-in systems of cords and support fabric slats that give them multiple crease lines. This means that when you pull Roman shades open, they form beautiful rippling pleats that deepen the more they rise. Master Automated Blinds & Shading provides custom made-to-measure shading products in various designs and styles. If you want to add new Roman-style coverings to your windows, we can make them fit the frame and the surrounding interior décor.
Custom Roman Shades For Mill Valley Windows
Almost any room goes well with these ornate Roman-style window coverings with the right design choices. Good thing we have so many choices to pick from! If you want Roman shades for French doors, you might opt for a thinner fabric with decorative ruffles or lace trim. Want something extra decadent and sensuous? Try some relaxed Roman shades with silver or gold embroidery! We work with every fabric type you can name, and our team can craft any style of shades. As long as your window or doorway has enough room on it, we can make the perfect set to suit your tastes and decoration scheme.
Choose Your Colors
Our interior design experts' advice and input come free before every blinds or shades purchase. Whether pristine white Roman shades for bathrooms made of waterproof material, or rich navy blue ones for bedrooms, we'll help you get every detail right. Want Roman shades for a living room or hallway window? Try a decorative pattern that complements the wallpaper and carpeting. How about Roman shades for kitchen windows? There are very few rooms that Roman shades fit poorly if you use some creativity and a skillful eye!
Roman Shades With Curtains Or Embellishments
Tassels, tails, and slits can all add some more captivating detail to a set of Roman shades. These window treatments are also known for playing nice with others on the same window frame. A pair of curtains overlapping the shades makes for quite the spectacle without seeming ostentatious. A set of gray Roman shades with some much brighter valences, or brighter shades with valences in a complementary hue, can be dazzling!
Wi-Fi Enabled Motorized Roman Shades
Moving on from aesthetics and into the realm of practicality, many Mill Valley homeowners are choosing to switch to motorized window shades, Roman or otherwise. Without the drawcords that old fashioned window treatments used, motorized Roman shades are much safer for pets and small children. They're also far more convenient, time-saving, and comfortable! Master Automated Blinds & Shading provides automatic motorized Roman shades and other window coverings with remote controls, sensors, timers, and other accessories. Just ask about the benefits of each option! You can also get electric Roman shades that integrate with your Amazon Alexa or the Google Home assistant.
New Roman Shades For Your Mill Valley Office or Home
Book a free estimate today and have one of our professionals meet you at your residence or business. While getting down the measurements of your windows, our expert will offer their professional design advice. We believe in involving you as much as possible in the design of your new Roman shades (or other coverings). That means informing you about style options, colors, and special features. After we finish making your new blinds or shades, we'll come back to install everything, including calibrating the sensors (with motorized Roman shades). Master Automated Blinds & Shading takes calls every day via our service hotline. Get in touch to schedule a free, no-obligation consultation appointment on Roman shades or any other type of coverings for windows, skylights or doors.