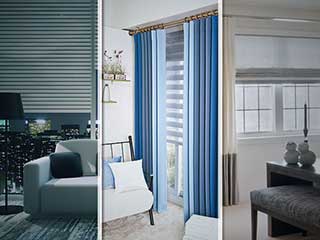 Master Automated Blinds & Shading specializes in making and installing remote control blinds and motorized window treatments of all kinds. We provide free consultation and estimates, and all of our products are custom made just for you! Whether you're looking for motorized Venetian blinds or some remote control Somfy smart shades, we can help you out! You've got a huge variety of automatic window covering options you can choose. Learn more about some of the popular choices, and see all available selections by scheduling a free at-home consultation.
Mill Valley's Most Affordable Motorized Window Blinds
We try to make things as easy as we can on the customer. Your initial free appointment can be any day during the workweek, and at any address in the Mill Valley general area. Our interior design experts are always happy to advise you on motorized blinds styles, colors, and components. If there's a particular vision you have, they'll tell you how to make it a reality at the lowest cost possible. You can then order our manufacturing, delivery, and installation services as one discounted package! If you order a set of motorized blinds with remote control systems, we'll handle the programming and connection setup as well.
Motorized Blinds For Silicon Valley Windows And Doors
One of the most important things our consultants do during the first appointments is measuring the frames you want covered. If you have a wall window or sliding door to cover, for instance, they'll suggest motorized vertical blinds to better fit those frames. They'll also look at the color scheme of the room and help you design some motorized window treatments that complement it. Some Somfy solar materials make great motorized Venetian blinds or roller shades panels for living and dining rooms. If you want to keep as much light out as possible, try a smart Lutron solar sensor hooked up to some motorized blackout blinds! French doors, gothic style windows, and deck observation ports all have their own needs, as do rooms of all sorts. We've been in this business long enough to recognize them!
Materials And Colors At Your Discretion
Most of our motorized blinds and shades are available in every color of the rainbow, and most come in a range of materials and textures. If you've decided on motorized Venetian blinds, you can choose real or imitation wood, metal, or vinyl slats. If you want motorized blackout blinds, you can choose dark purple or black lining for bedroom window sets, or brighter colors for other rooms. You can always ask us about embellishments for your new window treatments, like extra curtains, valences, or designs and embroidery.
Motorized Blinds With Wi-Fi Remote Controls
Thanks to efficient engineering by companies like Lutron, you can connect your motorized blinds to Alexa, Google Home, and other personal assistant apps. If you want to adjust your motorized vertical blinds throughout the day, you can! Ask us about remote control handsets, smartphone apps, or smart home integration. Of course, with any Wi-Fi connected appliance security is a top concern. Our installation team will make sure your motorized blinds are safe against Mill Valley's hackers and tech-savvy thieves.
Motorized Roller Shades And Other Window Treatments
Blinds aren't our only motorized window treatments. If you want something less bulky, try our motorized roller shades. As long as you have a little space above the window frame and below the ceiling, you have room for these bad boys! For a more elegant treatment on tall windows and French doors, consider motorized Roman shades. Explore the rest of our site to learn about our other custom products, or call us and ask.
Design Your Own Custom Motorized Blinds!
Get the best smart electric window blinds in the bay area by booking a free estimate with our experts today! From stylish roller shades to vertical blinds with a remote, we can craft any type of motorized window treatments you want, in any color or design. Schedule a no-obligation consultation appointment on motorized blinds in any Mill Valley address (or nearby areas) and see the wide range of choices available to you.