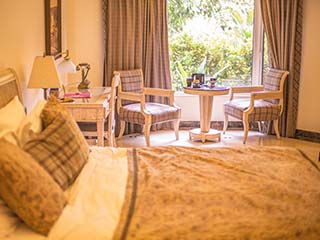 When it comes to shading an indoor property, blackout window curtains are a great option. Blackout draperies and curtains are similar to any other kind, except that they have a special inside layer that reflects light. That means that any sunlight that gets through the outer fabric lining gets bounced away again, and that same fabric layer even prevents glare. You can't even see faint outlines through a set of closed blackout window curtains, so closing them frees you of distractions and grants total privacy. Motorized blackout curtains improve your sleep and give you total light control with the push of a button. For Mill Valley area houses or apartments, or commercial businesses too, blackout curtains have plenty to offer.
Size Your Blackout Window Curtains To Fit
A key feature of blackout window curtains is that they need to cover the entire window pane to do their job. Short curtains or ones with slits don't really meet the "blackout" criteria! To make your blackout window curtains live up to the name, you should go with custom designed units sized for your window frames. For very tall windows or transparent doors, the best approach might be some long blackout drapes that hang down past the floor. These are extra nice in bedroom and parlor settings, for the aesthetic value on top of the light and privacy protection. If you're already looking at specific designs, you can also think about motorized blackout curtains for better convenience and reliability.
White Blackout Curtains – Not an Oxymoron
Fitting a set of blackout window curtains to the frame you need them in is just the first benefit of going with custom designs. It's important to have window treatments that are nice to look at because you're going to be seeing them a lot! Blackout draperies with valences, trims, and underlayers turn a window into a palatial display. Curtains with embroidery and embellishments tie a room together and make long, sunny days easier on the eye. The "blackout" description makes it sound like these window treatments are dark-colored, but that doesn't have to be true! White blackout curtains are one of the most popular choices in recent years. Blackout window curtains for your Mill Valley home can come in any color you want. And with almost any texture and material lining.
Smart Somfy Motorized Blackout Curtains
Custom design means that you get to choose accessories as well as styles and colors. With the variety of remote control systems, sensors, and batteries available for motorized blackout curtains, that's a lot of choices! Motorized blackout window curtains prevent damage to furniture and wallpaper by automatically adjusting to sunlight levels, if you give them the right features. Talk to our Mill Valley motorized curtain installers about smart control systems by Somfy or Lutron, as well as a remote handset or smartphone controls, battery options, and Wi-Fi. Motorized curtains smart enough to close themselves at dawn can help you sleep much better, even if you enjoy falling asleep to a cool outdoor breeze.
Custom Blackout Window Curtains In Mill Valley
Want to get started on your personalized blackout window curtains? You've got a local source to consult with for free! We provide advisory visits and estimates at absolutely no charge to help clients find the best custom motorized window curtains (blackout or sheer) for their needs. With our custom design process, we give you power over every aspect of your new shading solutions, along with professional decoration and design tips. Get help from Mill Valley blackout curtain and motorized drapery professionals via a free in-person estimate at your home or business. Call to schedule your free appointment today!