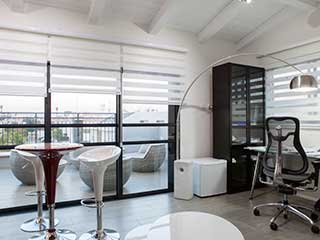 When you're looking to get new window covers for your Mill Valley home or business, you've got a lot of available choices. So how do you know what type of blinds or shades will offer the best shading solution for your needs? Master Automated Blinds & Shading is proud to provide custom made window coverings for our bay area customers that last for years to come. All while remaining within every customer's budget. Roller shades are one of our most utilized styles, thanks to their variety of colors, textures, and patterns! You can mix and match custom roller shade designs and opacity levels to suit the look of each room. These roller coverings won't draw attention away from the overall aesthetic. They'll add to it and enhance it.
Sheer Roller Shades Help Protect Furniture And Wallpaper
While natural sunlight can make a beautiful addition to the home, it can also do damage. If there's too much direct sunlight hitting books, couches, wallpaper or other parts of your property for too long it can fade colors and damage materials. Sun bleaching occurs in things like upholstery and books if they're left in direct sunlight for extended periods. The color that fades away is irreparable. Another problem with sunlight flowing in through uncovered windows is the temperature rising, which may cause the AC to run. Rather than risk your belongings or waste energy, sheer roller shades will filter and diffuse sunlight. They'll allow light in without a lot of damaging UV rays. That's why many folks around Mill Valley get sheer roller shades installed in residences and businesses.
Remote Control Motorized Roller Shades in Mill Valley Homes/Offices
Thanks to smart blinds motorization, you can have your window coverings roll up or down without touching them. Motorized roller shades let you simplify and avoid wasting time. Instead, you can connect them to your Wi-Fi and/or smart home system. That way, you can have the motorized roller shades work with remote control handsets or even your smartphone. You can also use an app on any smart device to adjust your motorized roller shades wherever you are. You can even use voice commands (with smart home systems) or have brightness sensors installed for automated operation.
Quality Blackout Roller Window Shades
One of the easiest ways to assure your privacy is with blackout roller shades! The Master Automated Blinds & Shading professionals make each set from scratch according to your specific windows. Meaning there won't be any gaps whatsoever. At home, blackout roller shades work great for bedrooms and bathrooms to avoid anyone peeking in. They're excellent for businesses as well! Whether you want to avoid prying eyes in your office or want to make sure a private meeting in a board room is for their eyes only. Blackout roller window shades will do the trick for a wide range of rooms, residential or commercial. They also keep out glare and make it easier to view screens, presentations, and more.
Custom Roller Coverings For Mill Valley Area Homes and Businesses
Choosing new window covers for your home or business involves deciding on multiple factors. You need to decide on colors, designs, materials, and also opacity level. And that's without even talking about operation methods or blinds motorization. Master Automated Blinds & Shading offers an extensive selection of options for motorized roller shades and other treatments. Save yourself time and effort by booking a free consultation with one of our local specialists. Get a free quote on roller shades, motorized or manual, and look at samples of all the different options suitable for your skylights, windows, and glass doors.